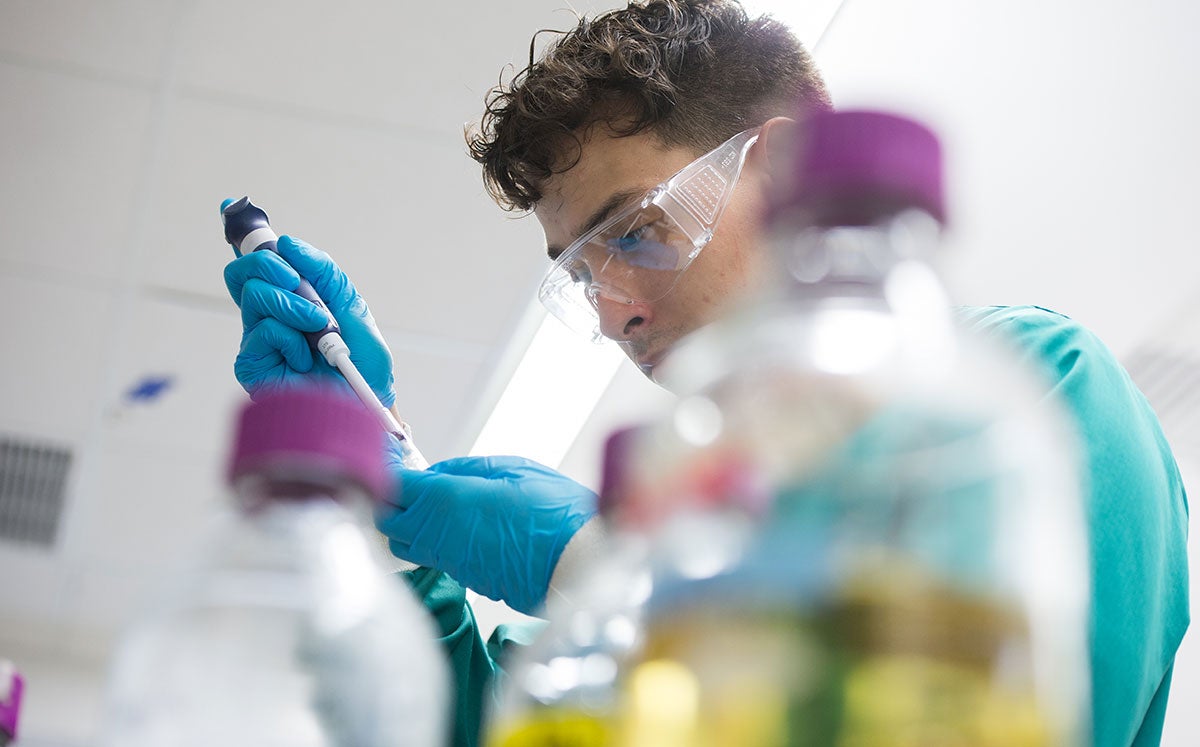 Graduate students are important participants in the research laboratories at CBIS. We view graduate student participation in research as a critical part of graduate education. Selecting a graduate school is one of the most important decisions a person can make in his or her professional career. Through the Shirley Ann Jackson, Ph.D. Center for Biotechnology and Interdisciplinary Studies, students can benefit from the guidance of outstanding faculty members who represent eight different university departments. Select a link below to learn more about a specific academic department or to begin the process of becoming a Rensselaer graduate student:
Forms and Applications
Special Graduate Studies Programs
Biotechnology can be found at the intersection of engineering and life sciences. Biological problems can be approached with engineering tools. Biology is becoming more quantitative. As engineers become more familiar with biology and start applying analytical solutions to biological problems, we need to train students to work successfully in interdisciplinary research. Nowhere is this more evident than at the biomolecular level.
The NIGMS Training Program in Biomolecular Science and Engineering at Rensselaer focuses on three biotechnology research thrusts:
Synthetic biology and biomanufacturing
Regenerative engineering and biotherapeutics
Computational biology and bioinformatics
These research thrusts lead to various combinations of five training areas:
Biocatalysis
Bioseparations
Biomaterials
Biomolecular-structure-function-&-analysis
Molecular biology and bioinformatics
The Training Program is designed to provide core competence to trainees in biotechnology, life sciences, engineering, data science, and entrepreneurship. Twenty-two Faculty Trainers are available to mentor/co-mentor each Trainee. These twenty-two Faculty Trainers provide courses/training in four core areas and five training areas with an overall goal of producing outstanding Ph.D.s with expertise in one or more of the three focal areas. Each of the three focal areas lies at the interface of the life sciences with key interactions in applied mathematics and information, engineering, the physical and mathematical sciences, and the enabling role of technologies in bioinstrumentation, bioimaging biosensors, biochips, and genomics/proteomics. The focal areas are built on the foundations of biomolecular science and engineering. Four departmental programs (Biological Sciences, Biomedical Engineering, Chemical and Biological Engineering, and Chemistry and Chemical Biology) that comprise the Training Program are engaged in one or more of these focal areas.
National Institutes of Health (NIH)
NIH is made up of 27 Institutes and Centers, each with a specific research agenda, often focusing on particular diseases or body systems.
National Institute of General Medical Sciences (NIGMS)
NIGMS supports basic research that increases our understanding of biological processes and lays the foundation for advances in disease diagnosis, treatment, and prevention. NIGMS-funded scientists investigate how living systems work at a range of levels from molecules and cells to tissues and organs, in research organisms, humans, and populations. Additionally, to ensure the vitality and continued productivity of the research enterprise, NIGMS provides leadership in training the next generation of scientists, in enhancing the diversity of the scientific workforce, and in developing research capacity throughout the country.

Goals:
To provide trainees with:
A keen understanding of the interdisciplinary nature of research

How it depends on fundamental underpinnings in both science and engineering
How it leads to innovative new scientific disciplines and technologies

Knowledge of commercial product development and start-up evolution
Skills for career exploration and professional advancement
Key Features:
Joint supervision and multidisciplinary Ph.D. thesis committee
Industrial internship (2-3 months)
Mandatory Courses:

Ethical Considerations in Biotechnology
Perspectives in Biomolecular Science and Engineering
Courses in 4 core areas of biomolecular science and engineering

Training in entrepreneurship and commercial translation
Training in professional development
Training enrichment in human health, physiology, and disease through symposia with clinical/industry partners

Frontiers in Biotechnology Seminar Series
Industrial Lecture Series in Biotechnology
Upon acceptance of this offer, you will be expected to participate in all Training Program activities as described in points A1-A13 (see below) and to continue to participate in those activities until your graduation. Failure to meet the requirements of the Training Program may result in an Executive Committee review of your training progress and revocation of your fellowship.

A1: A core course entitled "Perspectives in Biomolecular Science and Engineering" that serves as a crosscutting and unifying course for the Training Program is required for all trainees (taken each year of their Ph.D. training) and is cross listed among all four departments.
A2: One course in each of the three broad categories covering the five training areas of Biomolecular Science and Engineering (identified on the website: https://biotech.rpi.edu/students/nigms-bse/courses-in- core-areas-of- biomolecular-science-and-engineering and a course in data science that maximizes didactic training among the key disciplines. Trainees have crossover course requirements (that is students must take courses outside of their own major such that biologists and chemists take bioengineering courses and engineers take molecular biology and biochemistry courses). The data science and data analytics courses provide opportunities to understand how quantitative engineering and computer science methods can be seamlessly integrated into fundamental biological studies.
A3: Entrepreneurship and Commercial Translation Experience. Each trainee will attend a day-long technology commercialization boot camp at the RPI Office of Intellectual Property Optimization (IPO) to learn about fundamentals of intellectual property, patent search, patent filing procedures and associated market research. Trainees may also participate in the 3-step entrepreneurial program at the Severino Center for Technological Entrepreneurship at Rensselaer where they pitch a commercial idea, conduct market research.
A4: Trainees will attend a high-profile seminar series, "Frontiers in Biotechnology" that provides immersive and interdisciplinary exposure to contemporary research in academia and industry (separate series). This seminar series is separate from individual departmental seminars.
A5: CBIS Student Seminar Series. Trainees will organize and attend this seminar series. It gives trainees a greater appreciation of different research projects, address contemporary issues and enhances their training experience.
A6: Exposure to enrichment activities about human health, physiology, and disease. The Training Program participates in myriad seminar series/enrichment activities with the Icahn School of Medicine at Mount Sinai (Health Hackathon), the University at Albany (Life at the Interface of Science and Engineering (LISE) Lecture Series) and the Albany Medical College (such as the Albany Medical Center Prize Lecture). It exposes trainees to cutting-edge research about the development and application of biomolecular and cellular function to impact human health, physiology and diseases. Trainees will attend the aforementioned seminars. Each year, trainees will participate in the 48-hour Health Hackathon at ISMMS which promotes the healthcare innovation and entrepreneurial ecosystem.
A7: Trainees will participate in the Annual Retreat in biomolecular science and engineering. Here, trainees and others on campus interact with outside researchers in the field and hold breakout sessions in contemporary research areas and careers in biotechnology.
A8: Dual Advising and Multidisciplinary Ph.D. Thesis Committee Membership, with the goal of having all trainees earn their Ph.D. degree with a dissertation based on research conducted in the laboratories of two participating training faculty advisors from different departments, while completing all the individual departmental requirements for the Ph.D. degree in their home department. This is a unique aspect of the Training Program. This dual advising system fosters the collaboration of faculty from different ends of the life science-engineering spectrum.
A9: An industrial internship is required for all trainees where each trainee spends 2-3 months (or more) in an industrial research laboratory. All trainees also present posters and interact with industry personnel at annual meeting of the CBIS Industry Partners Program. The second year of the fellowship support is contingent upon your completion of the industrial internship requirement. There are no specific limitations on the type of internship or duration, as long as the internship takes place externally at a company site. In most cases, the internship will not involve research related directly to your Ph.D. thesis work.
A10: International Experience (optional and contingent upon research project progression). CBIS has established partnerships with Instituto Superior Tecnico (IST) Lisbon - Portugal; University of Montpellier, France; University of Toulouse, France; University of Queensland, Australia; and Seoul National University, South Korea. This combination of partners in research and education is diverse, scientifically broad, technologically astute, and has a long history of working together on complex and multidisciplinary problems.
A11: A dedicated course in responsible conduct of research (entitled "Ethical Considerations in Biotechnology"), as well as eight online modular units, developed through an NIGMS Administrative Supplement on curricular or training activities in Rigor and Transparency to enhance Reproducibility are mandatory for trainees. During each year of PhD training (until graduation) trainees are required to retake at least one module (2 week) to refresh their knowledge of RCR. RCR module to be taken each year should be approved by trainee advisor and the Executive committee.
A12: Participation in a set of dedicated activities (personalized for each trainee based on Individualized Development Plan) is required of all trainees to provide exposure and knowledge and soft skills required for diverse biomedical careers. Examples include a Frontiers in Biotechnology series, NIGMS supported online iBiology course, American Institute for Medical and Biological Engineering (AIMBE) Public Policy Institute, RPI's Office of Graduate Education Training for the Future Program for industrial or academic careers and participation in RPI's NIGMS T32 program committees (done on a rotation basis).
A13: Provide annual progress report for each year of PhD training, complete annual surveys related mentor- mentee relationships etc. until graduation in a timely fashion and assist in the Training Program activities requiring student participation and input.
Contact:
Deepak Vashishth, Director, (T32; NIGMS) Training Program
Biomolecular Science and Engineering
Center for Biotechnology and Interdisciplinary Studies
Rensselaer Polytechnic Institute
110 8th Street, BT 2213
Troy, NY 12180-3590
vashid@rpi.edu
(518) 276-2296
The NIA Training Program in Alzheimer's Disease Clinical and Translational Research at Rensselaer, in partnership with the Icahn School of Medicine at Mount Sinai provides interdisciplinary education for predoctoral students spanning Architecture, Biological Sciences, Biomedical Engineering, Chemical and Biological Engineering and Chemistry and Chemical Biology. The Training Program incorporates an integrated and multidisciplinary platform to train predoctoral students at the interface of these disciplines, focusing on the quantitative linkages that define this interface and preparing Trainees for careers in applied sciences and clinical research.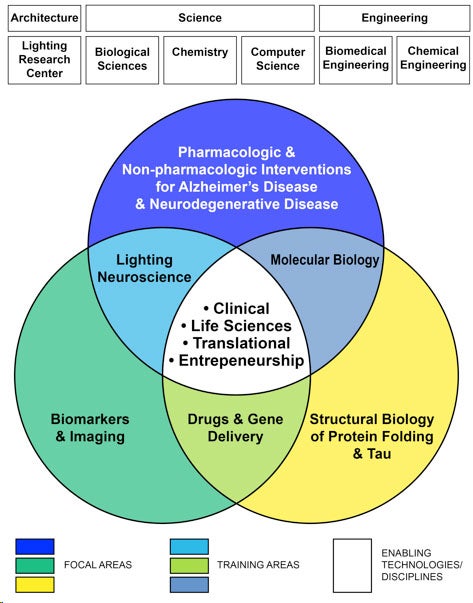 National Institutes of Health (NIH)
NIH is made up of 27 Institutes and Centers, each with a specific research agenda, often focusing on particular diseases or body systems.

National Institute of Aging (NIA)
NIA is one of the National Institutes of Health in the U.S. Department of Health and Human Services. The NIA leads a broad scientific effort to understand the nature of aging and to extend the healthy, active years of life. NIA is the primary Federal agency supporting and conducting Alzheimer's disease research
Goals:
To provide Trainees with:
A keen understanding of the interdisciplinary nature of research

How it depends on fundamental underpinnings in architecture, science and engineering
How it leads to innovative new scientific disciplines and technologies
How these technologies translate to clinical applications

Knowledge of commercial product development and start-up evolution
Skills for career exploration and professional advancement
Key Features:
Joint supervision and multidisciplinary Ph.D. thesis committee
Clinical or industrial externship (2-3 months)
Mandatory Courses:

Ethical Considerations in AD and AD-Related Research
Perspectives in Alzheimer's Disease Research
Courses in 4 core areas of Alzheimer's disease and AD-related dementias

Training in entrepreneurship and commercial translation
Training in professional development
Training enrichment in human health, physiology, and disease through symposia with clinical/industry partners

Frontiers in Alzheimer's Research Seminar Series
Contact
Dr. Mariana G. Figueiro, Director, (T32; NIA) Training Program
Alzheimer's Disease Clinical and Translational Research
Lighting Research Center
Rensselaer Polytechnic Institute
110 8th Street, Gurley Building, 3rd Floor
Troy, NY 12180-3590
figuem@rpi.edu
(518) 687-7142