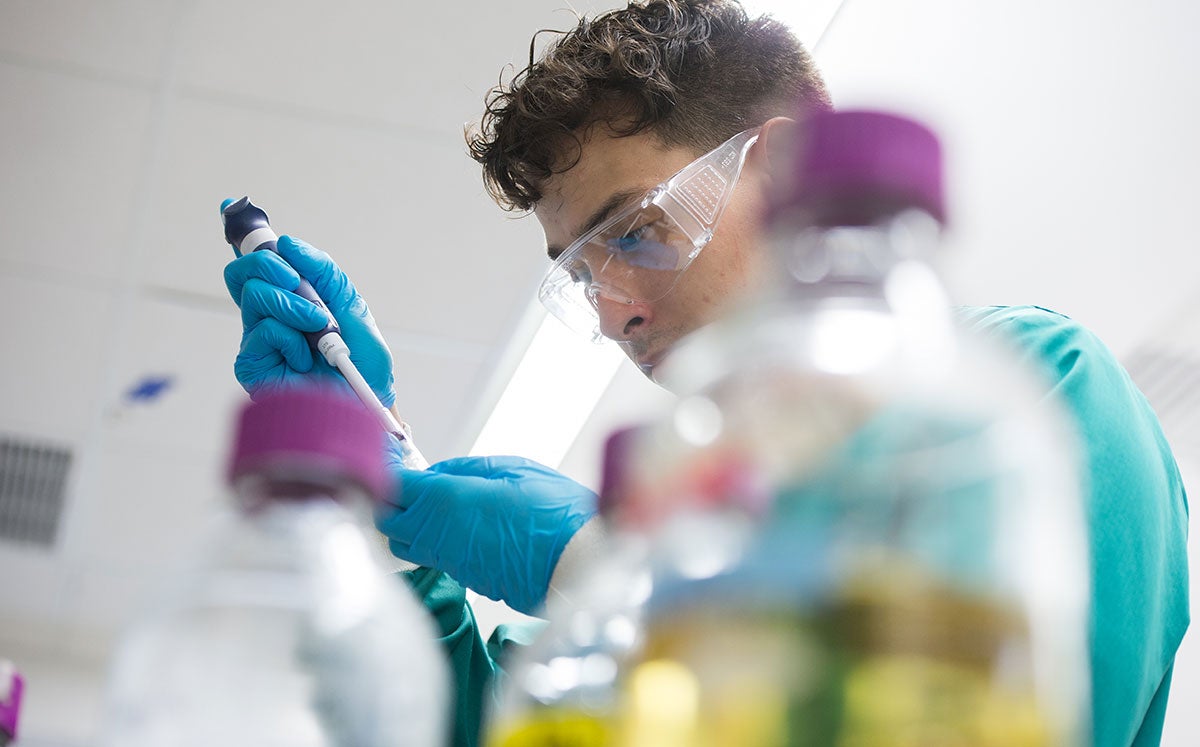 Graduate students are important participants in the research laboratories at CBIS. We view graduate student participation in research as a critical part of graduate education. Selecting a graduate school is one of the most important decisions a person can make in his or her professional career. Through the Shirley Ann Jackson, Ph.D. Center for Biotechnology and Interdisciplinary Studies, students can benefit from the guidance of outstanding faculty members who represent eight different university departments. Select a link below to learn more about a specific academic department or to begin the process of becoming a Rensselaer graduate student:
Forms and Applications
Special Graduate Studies Programs
Biotechnology can be found at the intersection of engineering and life sciences. Biological problems can be approached with engineering tools. Biology is becoming more quantitative. As engineers become more familiar with biology and start applying analytical solutions to biological problems, we need to train students to work successfully in interdisciplinary research. Nowhere is this more evident than at the biomolecular level.
The NIGMS Training Program in Biomolecular Science and Engineering at Rensselaer focuses on three biotechnology research thrusts:
Synthetic biology and biomanufacturing
Regenerative engineering and biotherapeutics
Computational biology and bioinformatics
These research thrusts lead to various combinations of five training areas:
Biocatalysis
Bioseparations
Biomaterials
Biomolecular-structure-function-&-analysis
Molecular biology and bioinformatics
The Training Program is designed to provide core competence to trainees in biotechnology, life sciences, engineering, data science, and entrepreneurship. Twenty-two Faculty Trainers are available to mentor/co-mentor each Trainee. These twenty-two Faculty Trainers provide courses/training in four core areas and five training areas with an overall goal of producing outstanding Ph.D.s with expertise in one or more of the three focal areas. Each of the three focal areas lies at the interface of the life sciences with key interactions in applied mathematics and information, engineering, the physical and mathematical sciences, and the enabling role of technologies in bioinstrumentation, bioimaging biosensors, biochips, and genomics/proteomics. The focal areas are built on the foundations of biomolecular science and engineering. Four departmental programs (Biological Sciences, Biomedical Engineering, Chemical and Biological Engineering, and Chemistry and Chemical Biology) that comprise the Training Program are engaged in one or more of these focal areas.
National Institutes of Health (NIH)
NIH is made up of 27 Institutes and Centers, each with a specific research agenda, often focusing on particular diseases or body systems.
National Institute of General Medical Sciences (NIGMS)
NIGMS supports basic research that increases our understanding of biological processes and lays the foundation for advances in disease diagnosis, treatment, and prevention. NIGMS-funded scientists investigate how living systems work at a range of levels from molecules and cells to tissues and organs, in research organisms, humans, and populations. Additionally, to ensure the vitality and continued productivity of the research enterprise, NIGMS provides leadership in training the next generation of scientists, in enhancing the diversity of the scientific workforce, and in developing research capacity throughout the country.

Goals:
To provide trainees with:
A keen understanding of the interdisciplinary nature of research

How it depends on fundamental underpinnings in both science and engineering
How it leads to innovative new scientific disciplines and technologies

Knowledge of commercial product development and start-up evolution
Skills for career exploration and professional advancement
Key Features:
Joint supervision and multidisciplinary Ph.D. thesis committee
Industrial internship (2-3 months)
Mandatory Courses:

Ethical Considerations in Biotechnology
Perspectives in Biomolecular Science and Engineering
Courses in 4 core areas of biomolecular science and engineering

Training in entrepreneurship and commercial translation
Training in professional development
Training enrichment in human health, physiology, and disease through symposia with clinical/industry partners

Frontiers in Biotechnology Seminar Series
Industrial Lecture Series in Biotechnology
Contact:
Deepak Vashishth, Director, (T32; NIGMS) Training Program
Biomolecular Science and Engineering
Center for Biotechnology and Interdisciplinary Studies
Rensselaer Polytechnic Institute
110 8th Street, BT 2213
Troy, NY 12180-3590
vashid@rpi.edu
(518) 276-2296
The NIA Training Program in Alzheimer's Disease Clinical and Translational Research at Rensselaer, in partnership with the Icahn School of Medicine at Mount Sinai provides interdisciplinary education for predoctoral students spanning Architecture, Biological Sciences, Biomedical Engineering, Chemical and Biological Engineering and Chemistry and Chemical Biology. The Training Program incorporates an integrated and multidisciplinary platform to train predoctoral students at the interface of these disciplines, focusing on the quantitative linkages that define this interface and preparing Trainees for careers in applied sciences and clinical research.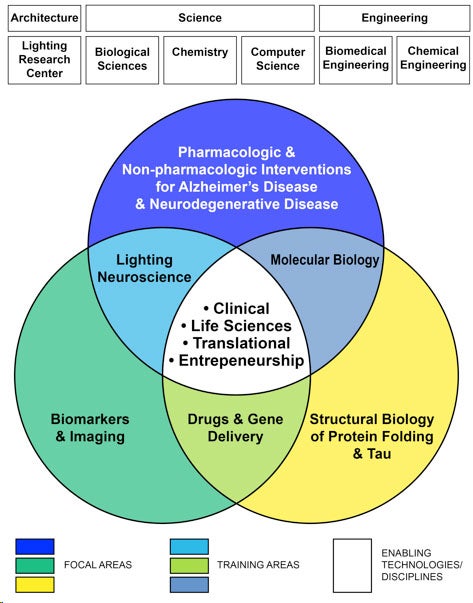 National Institutes of Health (NIH)
NIH is made up of 27 Institutes and Centers, each with a specific research agenda, often focusing on particular diseases or body systems.

National Institute of Aging (NIA)
NIA is one of the National Institutes of Health in the U.S. Department of Health and Human Services. The NIA leads a broad scientific effort to understand the nature of aging and to extend the healthy, active years of life. NIA is the primary Federal agency supporting and conducting Alzheimer's disease research
Goals:
To provide Trainees with:
A keen understanding of the interdisciplinary nature of research

How it depends on fundamental underpinnings in architecture, science and engineering
How it leads to innovative new scientific disciplines and technologies
How these technologies translate to clinical applications

Knowledge of commercial product development and start-up evolution
Skills for career exploration and professional advancement
Key Features:
Joint supervision and multidisciplinary Ph.D. thesis committee
Clinical or industrial externship (2-3 months)
Mandatory Courses:

Ethical Considerations in AD and AD-Related Research
Perspectives in Alzheimer's Disease Research
Courses in 4 core areas of Alzheimer's disease and AD-related dementias

Training in entrepreneurship and commercial translation
Training in professional development
Training enrichment in human health, physiology, and disease through symposia with clinical/industry partners

Frontiers in Alzheimer's Research Seminar Series
Contact
Dr. Mariana G. Figueiro, Director, (T32; NIA) Training Program
Alzheimer's Disease Clinical and Translational Research
Lighting Research Center
Rensselaer Polytechnic Institute
110 8th Street, Gurley Building, 3rd Floor
Troy, NY 12180-3590
figuem@rpi.edu
(518) 687-7142