The Flow Cytometry Core Facility offers researchers powerful instruments to measure multiple physical characteristics of individual cells in suspension. The flow cytometry technology allows evaluation of multi-color immune-phenotyping, protein expression level, cell cycle analysis, apoptosis studies, and measures diverse cellular functions.
The Flow Cytometry Core Facility director provides the user with access to instrumentation, training and technical assistance, offers information on present methods and applications as well as on dyes selection and combination for multi-color panel, and other reagents.
Contact Information:
Sergey Pryshchep, Ph.D.
Flow Cytometry Research Core Director
518-276-3456
pryshs@rpi.edu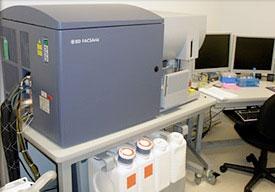 The BD FACSAria cell sorter sets a new standard for high-performance flow cytometry. The 70- and 100-micron nozzle tip sizes are designed to accommodate most cell types. The flexibility of the BD FACSAria cell sorter provides the total solution for flow cytometry sorting.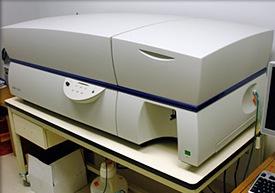 Multi-fluorescence cell and particle analyzer. Configured with 405-nm, 488-nm, and 633-nm lasers, the LSRII has the ability to acquire up to 10 colors. The LSR II is also equipped with a plate loader option allowing automated throughput screening from 96 or 384 well plates.