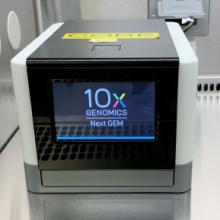 Genomics Core provides two 10x Genomics Chromium Controllers with multiple supporting instruments for transcriptomic and epigenomic profiling at single cell resolution. The Chromium device uses microfluidic partitioning to capture single cells or nuclei in GEM (Gel Bead-in-Emulsion), generating molecular and cellular barcoded nucleic acids to construct Illumina sequencing libraries. Each microfluidic chip has eight channels, allowing up to eight samples partitioned in parallel with each containing 500-10,000 cells. Single cell RNA-seq reveals the full complexity of cellular diversity in a sample. With the combination of simultaneous detection of additional analytes, such as cell surface proteins and CRISPR edits, researchers will gain deeper insights into cell types and states. Furthermore, single cell ATAC profiles genome-wide open chromatin fragments for hundreds to tens of thousands of nuclei per chip, deepening our understanding of gene regulatory mechanisms.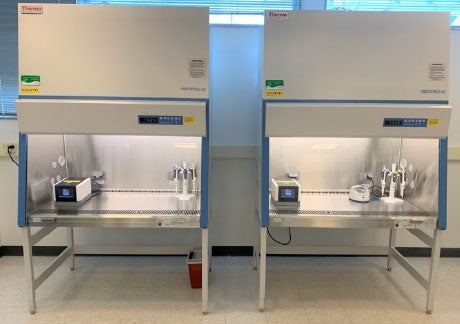 Users are responsible to provide high viability single cell suspensions or isolated nuclei.
Manufacturer: 10x Genomics
Equipment Rates & Fees
10x Chromium
(assisted)
 

| Service | Unit | RPI User | External Nonprofit | External Industry | External Industry Partner |
| --- | --- | --- | --- | --- | --- |
| 10x Chromium (standard) | per run | $53 | $87 | $174 | $157 |
| 10x Chromium (assisted) | per run | $105 | $173 | $345 | $311 |
|   | RPI Users | External Nonprofit | External Industry | External Industry Partners |
| --- | --- | --- | --- | --- |
| Personnel Time | $63 | $104 | $207 | $187 |
Valid through July 31, 2022. Rates are hourly unless specified otherwise and are subject to change without further notice.
Required Acknowledgement and Authorship
Please acknowledge the CBIS Core Facilities in all publications and grant applications where our equipment and/or personnel have facilitated the work. These acknowledgements are very important because documenting our contributions helps to ensure that the resources of the Core Facilities are sustainable.
Equipment: If you used Core Facility equipment, please note this in the Materials and Methods. e.g., Thermogravimetric analysis was carried out using a TA Instruments TGA-Q50 (Rensselaer CBIS Analytical Biochemistry Core Facility).
Personnel: Please consider including CBIS personnel as co-authors on your publications when they have made a significant intellectual contribution to the research. Include CBIS Core Facility directors or staff as co-PI or co-investigators in grant applications when they provide a significant contribution to the grant proposal and scientific/intellectual leadership for the proposed work. Please follow these guidelines: ABRF Recommended Guidelines for Authorship on Manuscripts. Also, our Core Facility personnel always appreciate when they are mentioned in the Acknowledgements section of publications.
Required Funding Authorization Form: Rensselaer researchers must fill out the CBIS Cores Authorization Form (PDF) to use the CBIS Core Facilities.