Atomic Force Microscope - Asylum MFP3D AFM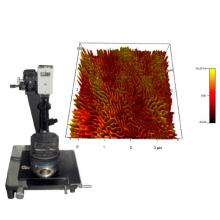 Atomic force microscopy can resolve structures on the nanometer scale. Scans as large as 90µm2 and less than 1µm2 can be collected on the MFP3D.
It has an extended Z range, permitting vertical displacements of up to 28µm. Both dry- and wet-mode scanning are available. A bioheater module facilitates live cell imaging for samples where temperature control is necessary.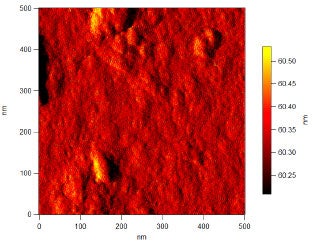 The Asylum MFP3D AFM, has been the instrument of choice for three dimensional measurements at the nanometer scale. With the MFP-3D Stand Alone (MFP-3D) AFM, scientists can now choose a sensitive and precise AFM with the lowest noise performance that also includes a complete scientific software environment. The MFP-3D is ideal for many applications including physics, material science, polymers, chemistry, nanolithography, bioscience, and quantitative nanoscale measurements. The MFP-3D has the flexibility to acquire your data, analyze it, and even make publication-ready graphics.
Manufacturer: Asylum Research
Equipment Rates & Fees
|   | RPI Users | External Nonprofit | External Industry | External Industry Partners |
| --- | --- | --- | --- | --- |
| Standard | $20 | $33 | $66 | $59 |
| Assisted | $40 | $66 | $132 | $118 |
| Training | $69 | $114 | $227 | $204 |
|   | RPI Users | External Nonprofit | External Industry | External Industry Partners |
| --- | --- | --- | --- | --- |
| Personnel Time | $63 | $104 | $207 | $187 |
Valid through July 31, 2022. Rates are hourly unless specified otherwise and are subject to change without further notice.
Required Acknowledgement and Authorship
Please acknowledge the CBIS Core Facilities in all publications and grant applications where our equipment and/or personnel have facilitated the work. These acknowledgements are very important because documenting our contributions helps to ensure that the resources of the Core Facilities are sustainable.
Equipment: If you used Core Facility equipment, please note this in the Materials and Methods. e.g., Thermogravimetric analysis was carried out using a TA Instruments TGA-Q50 (Rensselaer CBIS Analytical Biochemistry Core Facility).
Personnel: Please consider including CBIS personnel as co-authors on your publications when they have made a significant intellectual contribution to the research. Include CBIS Core Facility directors or staff as co-PI or co-investigators in grant applications when they provide a significant contribution to the grant proposal and scientific/intellectual leadership for the proposed work. Please follow these guidelines: ABRF Recommended Guidelines for Authorship on Manuscripts. Also, our Core Facility personnel always appreciate when they are mentioned in the Acknowledgements section of publications.
Required Funding Authorization Form: Rensselaer researchers must fill out the CBIS Cores Authorization Form (PDF) to use the CBIS Core Facilities.