Bruker 13 cm 7T Horizontal Bore MRI Scanner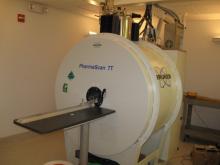 This MRI offers powerful non-invasive tools for evaluating and quantifying anatomical and functional changes at high spatial and temporal resolution in preclinical animal, tissue engineering, and material development programs with optimized protocols enabling anatomical, diffusion, flow, and functional measurements. The Bruker AVIII 13cm 7T MRI scanner has high performance gradient set and amplifiers, an assortment of RF volume coils with internal diameters ranging from 62mm to 23mm in addition to surface coilsand for localized image acquisition at high-resolution and sensitivity. State-of-the-art 2D and 3D spin-echo, gradient echo, echo-planer imaging (EPI), ultrashot echo time (UTE), and localized spectroscopy (MRS) imaging acquisition, reconstruction, and analysis methods are available to facilitate tissue engineering/regeneration, drug discovery, contrast agent development/targeting, cancer biology, neuroscience, and transgenic investigations.
The MRI is complemented with an animal procedure room, dedicated biometric monitoring equipment, inhaled anesthesia machines, and multiple data workstations with a variety of software packages for processing and analysis.
Examples of available weighting/contrast/acquisition modules:
T1, T2, T2*, rho, CPMG, inversion recovery, steady-state free procession
Diffusion and time of flight weighting
Diffusion tensor imaging
Susceptibility weighting
BOLD functional imaging
Fat/water quantification Arterial spin labeling
MRS localized spectroscopy and chemical shift imaging utilizing STEAM and PRESS
Manufacturer: Bruker
Equipment Rates & Fees
Rates for phantoms and live animals are the same.

|   | RPI Users | External Nonprofit | External Industry | External Industry Partners |
| --- | --- | --- | --- | --- |
| Standard | $75.60 | $124 | $249 | $224 |
| Assisted | $101 | $166 | $332 | $299 |
| Training | $69 | $114 | $170 | $153 |
Long Acquisition Experiment Fees
We offer the following "long acquisition experiment" rates from 9:00pm to 7:00am: $348 for RPI users); $572 for External Academic users; $1030 for External Industrial Partners; and $1145 External Industrial users.
Please note that these rates are for one single experiment requiring long acquisition time to improve the quality of the data.
|   | RPI Users | External Nonprofit | External Industry | External Industry Partners |
| --- | --- | --- | --- | --- |
| Personnel Time | $63 | $104 | $207 | $187 |
Valid through July 31, 2022. Rates are hourly unless specified otherwise and are subject to change without further notice.
Required Acknowledgement and Authorship
Please acknowledge the CBIS Core Facilities in all publications and grant applications where our equipment and/or personnel have facilitated the work. These acknowledgements are very important because documenting our contributions helps to ensure that the resources of the Core Facilities are sustainable.
Equipment: If you used Core Facility equipment, please note this in the Materials and Methods. e.g., Thermogravimetric analysis was carried out using a TA Instruments TGA-Q50 (Rensselaer CBIS Analytical Biochemistry Core Facility).
Personnel: Please consider including CBIS personnel as co-authors on your publications when they have made a significant intellectual contribution to the research. Include CBIS Core Facility directors or staff as co-PI or co-investigators in grant applications when they provide a significant contribution to the grant proposal and scientific/intellectual leadership for the proposed work. Please follow these guidelines: ABRF Recommended Guidelines for Authorship on Manuscripts. Also, our Core Facility personnel always appreciate when they are mentioned in the Acknowledgements section of publications.
Required Funding Authorization Form: Rensselaer researchers must fill out the CBIS Cores Authorization Form (PDF) to use the CBIS Core Facilities.