Cell & Tissue Culture Facility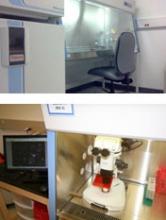 Stringent aseptic laboratory conditions for isolation and maintenance of mammalian cell lines, primary cells and tissues, generation of transgenic cell lines, and tissue fabrication. The monthly fee includes use of equipment listed below, PPE, decontamination supplies, minor lab supplies such as conical tubes and serological pipets, and monthly PCR-based testing for mycoplasma in all live cell cultures.
Laboratory Equipment:
Four Class II BioSafety Cabinets
Eight incubators with CO2 and O2 control
Two Eppendorf 5080 rotor and swinging bucket tabletop centrifuges, with refrigeration
Two surgical platforms for tissue dissection
Two Olympus SZX16 dissecting microscopes, with fluorescence capabilities
Two Olympus CKX41 inverted phase contrast microscopes
4C, -20C and -80C storage
Cryo storage (liquid nitrogen)
Equipment Rates & Fees
Rates are per person, per year. Minimum billing unit is one month.

|   | RPI Users | External Nonprofit | External Industry | External Industry Partners |
| --- | --- | --- | --- | --- |
| Monthly Fee | $217 | $351 | $702 | $632 |
|   | RPI Users | External Nonprofit | External Industry | External Industry Partners |
| --- | --- | --- | --- | --- |
| Personnel Time | $60 | $99 | $197 | $178 |
Valid through July 31, 2022. Rates are hourly unless specified otherwise and are subject to change without further notice.
Required Acknowledgement and Authorship
Please acknowledge the CBIS Core Facilities in all publications and grant applications where our equipment and/or personnel have facilitated the work. These acknowledgements are very important because documenting our contributions helps to ensure that the resources of the Core Facilities are sustainable.
Equipment: If you used Core Facility equipment, please note this in the Materials and Methods. e.g., Thermogravimetric analysis was carried out using a TA Instruments TGA-Q50 (Rensselaer CBIS Analytical Biochemistry Core Facility).
Personnel: Please consider including CBIS personnel as co-authors on your publications when they have made a significant intellectual contribution to the research. Include CBIS Core Facility directors or staff as co-PI or co-investigators in grant applications when they provide a significant contribution to the grant proposal and scientific/intellectual leadership for the proposed work. Please follow these guidelines: ABRF Recommended Guidelines for Authorship on Manuscripts. Also, our Core Facility personnel always appreciate when they are mentioned in the Acknowledgements section of publications.
Required Funding Authorization Form: Rensselaer researchers must fill out the CBIS Cores Authorization Form (PDF) to use the CBIS Core Facilities.