Fluorometer with Polarization and Fluorescence Lifetime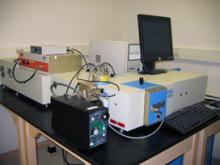 The Fluorolog Tau-3 is a fluorometer that is configured for standard fluorescence spectroscopy as well as molecular dynamics measurements:
Standard fluorescence measurements: The Fluorolog Tau-3 can record excitation spectra and emission spectra by scanning one or the other of its two (excitation and emission) double monochromators. It can record changes in fluorescence over time (kinetics) by parking both the excitation and emission monochromators at fixed wavelengths. It can also record "synchronous fluorescence spectra" in which both monochromators are scanned, while keeping a constant offset between the excitation and the emission wavelengths.
Molecular dynamics capabilities: The instrument is equipped with polarizers that allow it to measure fluorescence polarization (or anisotropy). It can also measure fluorescence lifetimes using a frequency-domain method. In combination, the polarization and lifetime capabilities allow the Fluorolog Tau-3 to determine the speed of rotation of species in solution.
Manufacturer: Horiba (originally SPEX)
Technical:
Fluorescence geometries: Right-angle and Front-face.
Sample stages:

Single holder for standard cuvettes with temperature control (thermo-electric "Peltier") and magnetic stirring.
Two-cuvette carousel for fluorescence lifetime measurements, with temperature control by external circulating water bath.
Solid sample holder with rotational goniometer.

Light source: Xenon arc lamp
Equipment Rates & Fees
|   | RPI Users | External Nonprofit | External Industry | External Industry Partners |
| --- | --- | --- | --- | --- |
| Standard | $17.64 | $29 | $58 | $52 |
| Assisted | $35.28 | $58 | $116 | $104 |
| Training | $69 | $114 | $227 | $204 |
|   | RPI Users | External Nonprofit | External Industry | External Industry Partners |
| --- | --- | --- | --- | --- |
| Personnel Time | $60 | $99 | $197 | $178 |
Valid through July 31, 2022. Rates are hourly unless specified otherwise and are subject to change without further notice.
Required Acknowledgement and Authorship
Please acknowledge the CBIS Core Facilities in all publications and grant applications where our equipment and/or personnel have facilitated the work. These acknowledgements are very important because documenting our contributions helps to ensure that the resources of the Core Facilities are sustainable.
Equipment: If you used Core Facility equipment, please note this in the Materials and Methods. e.g., Thermogravimetric analysis was carried out using a TA Instruments TGA-Q50 (Rensselaer CBIS Analytical Biochemistry Core Facility).
Personnel: Please consider including CBIS personnel as co-authors on your publications when they have made a significant intellectual contribution to the research. Include CBIS Core Facility directors or staff as co-PI or co-investigators in grant applications when they provide a significant contribution to the grant proposal and scientific/intellectual leadership for the proposed work. Please follow these guidelines: ABRF Recommended Guidelines for Authorship on Manuscripts. Also, our Core Facility personnel always appreciate when they are mentioned in the Acknowledgements section of publications.
Required Funding Authorization Form: Rensselaer researchers must fill out the CBIS Cores Authorization Form (PDF) to use the CBIS Core Facilities.