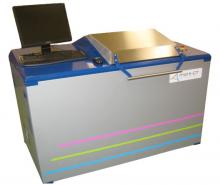 The MARS spectral CT scanner is a highly novel instrument that generates multi-energy images with high spatial resolution and low noise using single photon counting capabilities. Functional imaging simultaneously identifies and quantifies various components of soft tissues, bones, tumors, regenerated tissues, cartilage as well as exogenously administered contrast agents, nanoparticles and pharmaceuticals in a single scan thereby offering x-ray imaging at histology levels. The state-of-the-art X-ray based imaging technology enables contrast of soft tissues and materials.
The scanner utilizes advanced computational resources, including redundant file servers and compute nodes, for data management and fast image reconstruction, as well as multiple data workstations with specialized software for global analysis of the multi-energy images.
For rates, please contact BioImaging Core Director Scott A. McCallum, Ph.D. BioImaging and NMR Research Core Director, by calling (518) 276-2856 or via mccals@rpi.edu.
Manufacturer: Mars Bioimaging
Equipment Rates & Fees
|   | RPI Users | External Nonprofit | External Industry | External Industry Partners |
| --- | --- | --- | --- | --- |
| Standard |   |   |   |   |
| Assisted |   |   |   |   |
| Training |   |   |   |   |
Rates coming soon.
|   | RPI Users | External Nonprofit | External Industry | External Industry Partners |
| --- | --- | --- | --- | --- |
| Personnel Time | $70 | $115 | $230 | $207 |
Valid through July 31, 2024. Rates are hourly unless specified otherwise and are subject to change without further notice.
Required Acknowledgement and Authorship
Please acknowledge the CBIS Core Facilities in all publications and grant applications where our equipment and/or personnel have facilitated the work. These acknowledgements are very important because documenting our contributions helps to ensure that the resources of the Core Facilities are sustainable.
Equipment: If you used Core Facility equipment, please note this in the Materials and Methods. e.g., Thermogravimetric analysis was carried out using a TA Instruments TGA-Q50 (Rensselaer CBIS Analytical Biochemistry Core Facility).
Personnel: Please consider including CBIS personnel as co-authors on your publications when they have made a significant intellectual contribution to the research. Include CBIS Core Facility directors or staff as co-PI or co-investigators in grant applications when they provide a significant contribution to the grant proposal and scientific/intellectual leadership for the proposed work. Please follow these guidelines: ABRF Recommended Guidelines for Authorship on Manuscripts. Also, our Core Facility personnel always appreciate when they are mentioned in the Acknowledgements section of publications.
Required Funding Authorization Form: Rensselaer researchers must fill out the CBIS Cores Authorization Form (PDF) to use the CBIS Core Facilities.