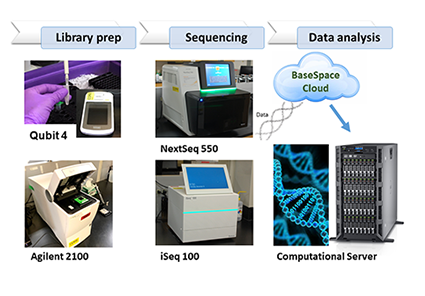 Next Generation Sequencing Applications in Biological and Biomedical Research
The Genomics Research Core Facility applies tools of high throughput next generation sequencing (NGS) technology to interdisciplinary biomedical, biochemical and biological studies. The fast-developing NGS technology brings us many ground-breaking applications that improve human health.
For example, whole genome sequencing and mutation detection can associate pathological phenotypes with causal genotypes, which are widely used in diagnosing genetic diseases and drug development.
Another major biomedical application is to investigate complex disease mechanisms through genome-wide gene expression profiling. It allows us to survey gene functions and identify crucial players for pathogen infection, cancer formation, neuron degeneration, etc. In addition, NGS can be used to understand the impact of gut microbiome on human health. For each application, our workflow starts with nucleic acid extraction, followed by NGS library preparation, sample sequencing and finally Bioinformatics analysis.In this course, we will focus on sample preparation and two major NGS applications, mutation detection and gene expression profiling.
Sessions:
Next-generation sequencing library preparation, sequencing and application discussion
Mutation detection of E. coli whole genome sequencing data for microbiome study
Gene expression profiling of human cancer and benign RNA sequencing data for disease mechanism study
Key technical points included in the sessions:
DNA/RNA quantification using Qubit 4
DNA/RNA quality evaluation using Bioanalyzer chip-based auto-electrophoresis
mRNA isolation using poly(T) magnetic beads
NGS library preparation
DNA size selection
Seq sequencing demonstration
RNA-Seq raw data QC and clean-up
eukaryote (human) and prokaryote (E. coli) reference genome alignment
gene expression quantification
R programming for Genomics statistical analysis
Contact:
Yang Bai, Ph.D.
Director, Genomics Research Core
Shirley Ann Jackson, Ph.D. Center for Biotechnology and Interdisciplinary Studies
Rensselaer Polytechnic Institute
Email: baiy4@rpi.edu